March 1959 brought the second American car into the range and also the second 'Thunderbird'. This Thunderbird has four wheels, however, and is the big Ford with classic styling. The model seems to be a really very good reproduction. I am not sure about 1959 being included on the rear panel but otherwise it is a fabulous model.
It was available as 214 in pale green with a cream roof and 214M, the penultimate Mechanical model issued, in a delightful pink with a black roof. I am not aware of any colour variations, despite the 214 selling very well. The 214M, in contrast, was not popular and good examples now are very hard to find and expensive.
Even harder to find, although not necessarily more expensive, are the shaped wheel edition of 214, which would have been produced just as the model was reaching the end of production to make way for 214S in June 1962. The 214M will always have smooth wheels.
The other issue this month was Gift Set 5, containing the three racing cars now available 150 Vanwall in red, 151 Lotus in pale blue and 152 BRM in green.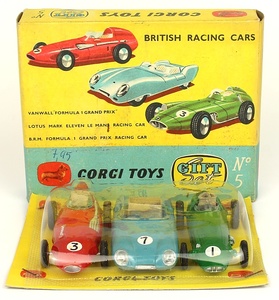 This set is even more difficult to find than the mechanical Ford Thunderbird.